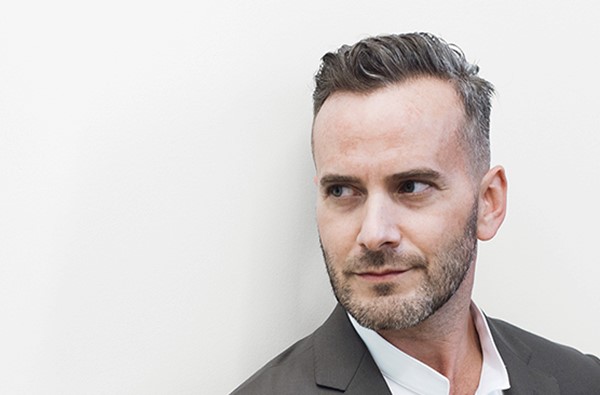 "JOE DOUCET IS A LIVING BLUEPRINT FOR THE 21st CENTURY DESIGNER"
- FORBES


Vue Shield is a finalist in the health category for Fast Company's 2020 Innovation by Design Award.

Doucet is a Winner of the Smithsonian Cooper-Hewitt National Design Award as Product Designer—the highest honor in his field.
Designer Joe Doucet created Vue Shield to reflect the increasing importance of face shields as personal protection equipment. Face shields help protect from particles, spray and splashes in the workplace, shops or outdoors, but the standard shields on the market are uncomfortable and awkward.
To create a face shield that people would actually want to wear rather than simply put up with, Joe Doucet has designed a shield with integrated sunglass lenses and arms that make them more practical and feel less alien and intrusive on the wearer. The design is further enhanced with features including all-over UVA, UVB and blue light protection for everyday practicality.
With stylish options for both men and women, as well as a unisex clear version, Vue Shield will encourage far greater uptake of face shields and help everyone adjust to the "new normal" that awaits us.
JOE DOUCET
A designer, entrepreneur, inventor and creative director, Joe Doucet is one of the most sought-after creative talents working in America today. After graduating from the Art Center College of Design, Doucet quickly began exporting his vision into product, furniture, environment, and technology to find solutions for daily and societal challenges through design. His work deftly hybridizes function and visual appeal while conveying layers of meaning and message. Doucet believes that design and, more importantly, a designer's thought process can play a larger role in innovation and problem solving, as well as aesthetics. He currently holds numerous patents for his designs and inventions.
Doucet's work has been exhibited globally, including the London Design Museum and the Biennale International Design in Saint-Etienne. He has received numerous international awards, including a World Technology Award for Design Innovation and multiple Good Design Awards. He was also named the only ever AvantGuardian for Design by Surface Magazine. In 2017, Doucet was named the 2017 Winner of the Smithsonian Cooper-Hewitt National Design Award as Product Designer—the highest honor in his field.